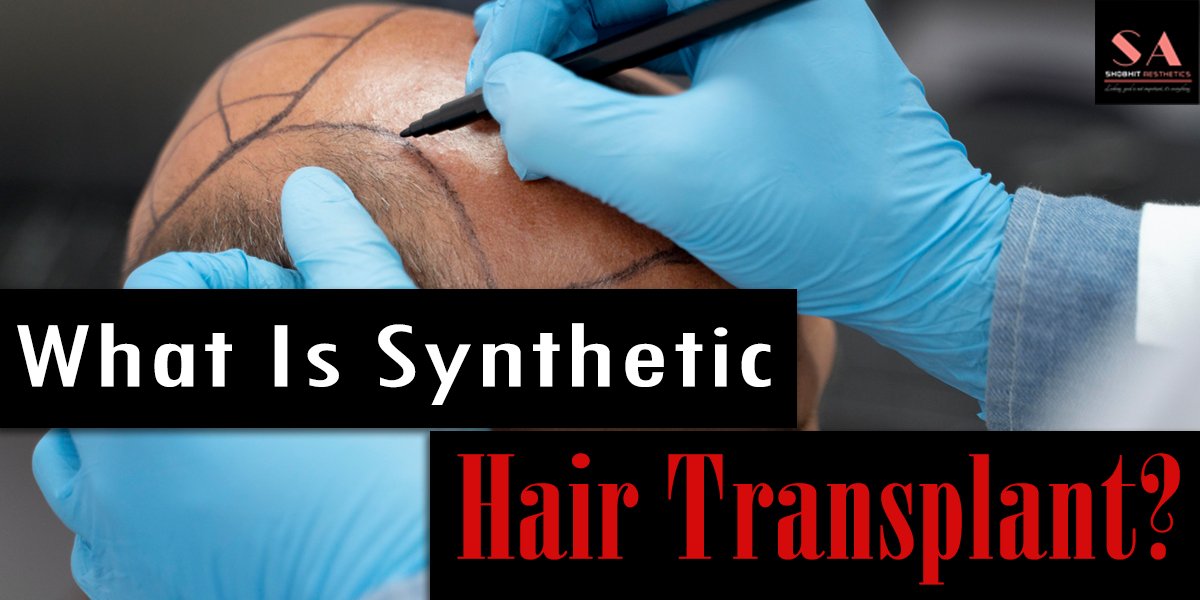 Hair loss is one of the major problems that people are experiencing these days and causing terror for both women and men that affect their lives. Hair loss affects an individual's life psychologically, professionally, and socially. But when the problem reached the phase of complete baldness, it may cause severe embarrassment and also lowers self-confidence.
Now there is a solution for baldness for both men and women who are suffering from complete hair loss. This technique of hair implant delivers instant results in one sitting. This procedure is ideal for any age and even for a completely bald person.
What is Synthetic Hair Transplant?
In synthetic hair transplantation, the surgeon uses synthesized hairs and implants them into the scalp to create a fuller look. It is a non-invasive procedure for treating baldness, bald patches, or hair thinning. First, the surgeon implants 100 synthetic hairs on the patient's bald patches for about a month to see if the patient is allergic to them. They don't want to risk having an allergic reaction to synthetic fibers in the future.
Significance of Synthetic Implantation
To make an informed decision, it is essential to comprehend the key aspects of synthetic hair transplants. The procedure for synthetic hair transplantation has the following significant advantages:
A perfect solution for patients with a limited donor area or who are facing complete baldness
This procedure can be done at later stages of your age
It is an outpatient treatment, so you are not required to halt your daily activities
This procedure is a quick, painless, and simple method
High hair density within a few hours after the surgery as you do not require a long wait for hair growth
This method delivers natural-looking hair
You can choose your hairstyle; curly, straight, or wavy, and long, short, or medium.
Synthetic biofibres do not get white, unlike natural hair over time.
Who are the Ideal Candidates for Synthetic Hair transplant?
People with low hair density on the scalp
Who want immediate results
Who have exhausted or no hair in the donor area
Non-smokers or willing to quit smoking a few weeks before the surgery
Willing to take care of synthetic fibers after the surgery
People have realistic expectations
The Procedure of Synthetic Hair Transplant
With the use of local anesthesia, the surgeon numbs the scalp.
By using special implanters, artificial fibers are attached to the scalp with reversible knots until the treated area is covered in artificial hair strands.
The area of the scalp that needs to be treated determines how long the procedure will take.
It would take longer to complete the larger area. However, implanting approximately 1000 artificial hairs takes three to four hours.
However, if the patient requires additional strands, the entire procedure is broken up into several sessions.
Which is the Best Clinic for Synthetic Hair Transplant?
The expertise of the hair surgeon and the clinic chosen greatly influence the success of a synthetic hair transplant. If you want a hair transplant that looks natural and has good results, choosing a good artificial hair surgeon is important because precision and accuracy are so important.
At Shobhit Aesthetics, they offer our customers the highest-quality hair transplant procedures thanks to a team of highly trained and experienced specialists. They not only have an effective team, but we also have the most cutting-edge technology equipment to ensure the smoothness and upkeep of their treatments.
To make sure there are no complications during a natural hair transplant rather than a synthetic hair transplant, our hair surgeons thoroughly examine the patient's medical history. In order to effectively treat hair loss, we follow this up with a series of medical examinations and scalp tests.
You can look up the client testimonials and before-and-after photos, which demonstrate the efficacy of the treatments. Feel free to look around their website to learn more about their services. Based on your current hair loss condition, expectations, and financial constraints, consult Shobhit Aesthetics can assist you in selecting the most appropriate hair fall treatment.
How much does implantation of bio-synthetic or artificial hair cost?
The cost of a bio-synthetic hair transplant depends on a lot of different things, like how healthy your scalp is and how many fibers are needed to implant the hair. The cost could start at Rs. 85 to Rs. 120 per strand of hair.
We suggest you visit Shobhit Aesthetics for a consultation with Dr. Shobhit Gupta, a board-certified plastic surgeon, who will help you determine whether bio-synthetic surgery is right for you.